Can you hear Vegas' perpetual heartbeat that never dies down? The snapping of shuffling cards, the clicking of a roulette wheel, the clatter of tossed dice, the spinning of a slot machine, a whispered prayer for 21 - this is the music of Las Vegas. It's a soundtrack that you look forward to every time you visit Sin City, or if it's your first visit, one that will haunt and call for you until you come back.
The Bellagio
Over-indulgence is a word that's not in the Bellagio's dictionary. As a matter of fact, think of an over-indulgence and then magnify it by ten. That's The Bellagio. Extreme luxury and class coupled with the palpable excitement of the game floor make the Bellagio a Las Vegas casino icon.
Mandalay Bay
Mandalay Bay is a favorite vacation spot for many returning guests. Built to resemble a beach resort set in the South Seas, it even has its own beach. This hotel casino is a spacious and flowing resort, with rooms to match. With its own shark reef, the Mandalay is truly an original, and it pushes the envelope even by Vegas standards! The casino tables are geared more to the high roller, with many celebrities gracing its halls, but a huge number of 5 cent and 25 cent slots adorn the floor as well.
MGM Grand
The largest of the Las Vegas casinos, the MGM Grand, lives up to its name. With the dual roaring lions guarding the entrance, this Vegas icon is also one of the most recognized hotels in the world. With over 3,500 slots and 165 game tables, this giant game floor is always buzzing with excitement. The MGM Grand makes excellent use of its space allowing for an open, comfortable playing atmosphere.
Caesars Palace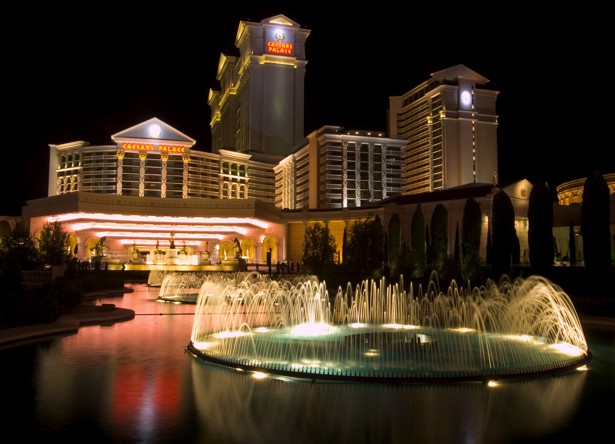 Transport yourself back to the age of Roman dominance as you step into the lavish Caesars Palace. Aptly named, the massive columns, the sparkling fountains and the statuary, all point to a different place in time, but with the expected Las Vegas flair. The casino's a combination of grand Roman styling, like marble columns and spacious ceilings and it's approachable by all degrees of players. The 5 cent and 25 cent slots are still enjoyed at Caesars.
The Luxor
From high atop this massive modern pyramid shines the world's brightest beam of light, illuminating heaven itself. Built in 1993, The Luxor has all the trappings of an Egyptian king's palace, but even a king would never have imagined the level of luxury available at the Luxor. While the accommodations are richly appointed and the cuisine quite impeccable, it's truly the casino that's the main attraction at the Luxor. All of the traditional games are represented and there is even a poker room where rookies can get free lessons to better their chances against the pros. Poker face not included.

(Persopo.com's goal is to provide easy online access to public record information in a fast, safe, and affordable manner. Because Persopo is not a Consumer Reporting Agency as defined by the Fair Credit Reporting Act (FCRA), you must not use this site if you are searching for a person because you are considering them for employment, credit or insurance eligibility, tenancy, or any other reason that would require FCRA compliance. Learn more by visiting our Terms of Service and Privacy Policy.)