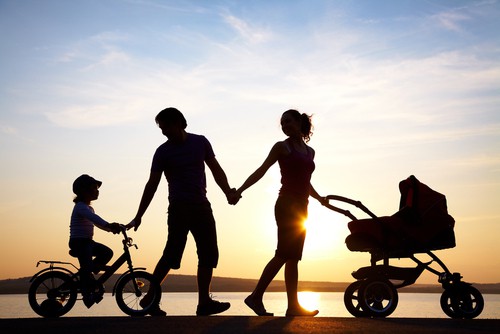 Who's cool? Who still knows what's up? Not you. You used to rock and roll all night and party ev-er-ee day. Now you're home by eight o'clock on school nights, and weekends too. Because you've got kids.
At least, that's how it feels during the dark moments. The moments in which you're alone and cringing in a hard plastic booth at a Chuck E. Cheese, counting the minutes before you can escape the animatronic caterwauling. The moments in which you find yourself at a Gymboree and realize that you paid good money to be surrounded by people you want nothing more than to strangle. The moments in which you strongly suspect that your childless friends whisper with pity about how much more interesting you used to be - in the time before.
But in the good moments - and admit it, there are plenty of them - your kids are fantastic. Their newness, their curiosity, their wonder, their total lack of been-there-done-that, and their especially useful insistence that you get your ass of the couch and go out and actually see this miraculous city we call home. Put down that leftover chicken nugget you were about to filch and get out on the town. There's plenty of fun to be had here - even before bedtime.
Best Place To See If You've Still Got It: Skateland
Opened in January of 1958, Northridge Skateland is now one of L.A.'s last remaining roller rinks, outliving all of its competitors. And there's a reason: Old as it is, this place doesn't feel like a relic - it's sparklingly well-maintained, and of course, the fact that DJs always spin whatever is in the top 40 this week always makes it feel current. Fabulous lighting, lots of video games and a lazer maze give you everything you'd want from a roller rink experience.
Little kids will like:
Learning how to roller skate, and doing the hokey pokey.
Older kids will like:
Feeling like they're in a nightclub, complete with lights, music, and flirting.
Grownups will like:
A much-needed opportunity to burn off the calories accrued from all of those pilfered chicken nuggets. Of course, if you're going to be a dud about it, you can bring your laptop and use the rink's free wifi while the kids skate. Or if you just can't get enough, come back for the 18-and-over adult night on Sunday and skate to Old School jams.
Best Place To Introduce Absolute Beginners To Art: LACMA
As if LACMA weren't kid-friendly enough with their Family Days and free admission NextGen program for kids, the installation of Chris Burden's Metropolis II, basically the world's best Erector set / building blocks / Hot Wheels city that buzzes and zips on Fridays, Saturdays, and Sundays, clinched the deal.
Then there's Richard Serra's Band, an expansive ribbon of rusted metal that creates flowing spaces which simultaneously intimidate with their immensity and enchant with their intimacy. The waves of metal invite hide-and-go-seek, yet also provide parents with a perfect opportunity to cultivate a young child's "look but don't touch" museum manners in a low-stakes setting. Throw in a ride in Barbara Kruger's romper-room-sized elevator and maybe a side trip to the cafe for a pastry, and you will have decisively buried the myth that museums have to be "hands on" to be interesting to children.
Little kids will like:
The rain of rubber tubing that is Penetrable in Neon Lime by Jesús Rafael Soto.
Older kids will like:
Pretty much a lot of the same stuff grownups would like.
Grownups will like:
How easy it is to get the kids enthused in a not precisely "for kids" setting.
Best Band To Blow A Little Girl's Mind: Pretty Little Demons
The duo of drummer Marlhy Murphy, age 10, and guitarist Lydia Night, age 12, were the youngest band to be invited to play at SXSW, where they wowed the 2013 crowd with their not-just-a-gimmick originals and a compelling cover of Hole's "Violet." Murphy is a jaw-dropping drumming prodigy who often steals the show, and Night cites Karen O., Regina Spektor and Amanda Palmer as influences. Actor Ryan Gosling shared the stage with the tweens at SXSW, but you don't have to fly to Austin to take your kids to see them. - they're doing a residency this month at Thee Escondite downtown. Check for their frequent gigs all over L.A. at their website, PrettyLittleDemons.com.
Little kids will like:
Jumping around like savages to wailing guitar.
Older kids will like:
Seeing kids their own age on stage, actually doing something very cool.
Grownups will like:
Watching their daughters latch on to new rock star role models who are about ten billion times cooler than Miley.
Best Place To Challenge A Budding Art Enthusiast: The Getty Center
Ironically, the children's area at the Getty Center is a snooze even for kids. Skip it and head straight for the galleries, where you'll need to take your younglings by the hand, convince them to slow down and take a good look at the stories being told.
Unlike the comparatively riotous exhibits of LACMA's Broad Contemporary Art Museum, the galleries of the Getty Center look more like what one thinks of as a classic art museum (read: walls hung with paintings). This can be a challenge for children, who might not immediately be grabbed by the offerings.
But the perfect place to start is with the theatrical pre-Raphaelite painting The Ransom (shown above). Kidnapping is a compelling narrative for a child to contemplate, and although the painting has its art world detractors, point out to your kids that - hey look - even the dog is concerned.
Little kids will like:
Riding the train, weaving through the zigzag pathways of the garden, and rolling on the grass lawns.
Older kids will like:
The all-metal scale model of the Center in the courtyard, and borrowing one of the center's umbrellas to keep the sun or the rain off.
Grownups will like:
Really good coffee at courtyard carts.
Best Place To Outwit The Madding Crowd: Los Angeles Zoo
As a favorite school field trip destination, the L.A. Zoo has predictable peak attendance hours: 10 a.m. to 2 p.m. weekdays. It's also busy on any sunny weekend. But if you can be there after 2 p.m. on a weekday or on a weekend that's anything less than cloudless, it's easy to feel like you've got the place to yourself.

If peak times are your only option, you can still find peace and enjoyment simply by slowing down. Many zoo visitors feel the need to drag their kids from animal to animal in a frantic race to see it all, which means that if you simply stay put at any exhibit for more than thirty seconds, the wave of humanity will gradually ebb around you.

A winning strategy is to ask your kid to pick two favorites - elephants and giraffes, say - and make a beeline for those. That done, the rest is gravy.

Little kids will like:
Seeing the animals.

Older kids will like:
Seeing the animals misbehave. Park yourself at the grandstand across the way from the "Chimpanzees of the Mahale Mountains" exhibit, unpack your lunch, and sit a spell. It won't be long before your patience is rewarded with (a) adorable chimp antics (b) a gnarly chimp fight (c) mortifying chimp masturbation or (d) all of the above.

Grownups will like:
One of the biggest yet lowest stress bangs for your entertainment buck, especially if you buy a membership, which pays for itself in just a few visits.

(Persopo.com's goal is to provide easy online access to public record information in a fast, safe, and affordable manner. Because Persopo is not a Consumer Reporting Agency as defined by the Fair Credit Reporting Act (FCRA), you must not use this site if you are searching for a person because you are considering them for employment, credit or insurance eligibility, tenancy, or any other reason that would require FCRA compliance. Learn more by visiting our Terms of Service and Privacy Policy.)