The snooze alarm is just so tempting, and once you've overslept, it's easy to rush out the door without grabbing something to eat. After all, who has time to cook eggs and bacon when you're already 10 minutes behind schedule? Fortunately, there are plenty of simple breakfast options for even the most hectic of mornings, and they're not limited to granola bars and Pop-Tarts. Here are five super-fast morning meals that should take you just a minute or two to prepare.
Waffles with Nut Butter and Bananas
Toaster waffles aren't just a delivery vehicle for maple syrup. Here, they serve as a base for a tasty combo of nut butter and bananas. Recipe from Real Simple
Ingredients:
4 frozen whole-grain waffles
4 tablespoons almond butter or peanut butter
2 bananas, thinly sliced
1 tablespoon honey
Directions: Toast your waffles. While waffles are warming, slice the banana.
Spread almond or peanut butter on cooked waffles, top with sliced banana, and then drizzle with honey.
Egg and English Muffin Sandwich
Craving a dose of morning protein but don't have time to stand over a stove? You can save time and minimize cleanup by cooking a scrambled egg in the microwave. Then, serve it on a toasted English muffin for a delicious, on-the-go breakfast. Recipe from PBS.
Ingredients:
1 whole-wheat English muffin
1 egg
1 teaspoon water
1 to 2 tablespoons shredded cheese (use any cheese you like)
Salt and pepper
1 tablespoon mayonnaise
½ teaspoon Dijon mustard Directions: Split and toast the English muffin.
While muffin is toasting, crack one egg into a small, microwavable dish that's roughly the same diameter as your English muffin, like a coffee cup or small individual baking dish. Add the water and whisk the egg thoroughly. Sprinkle cheese on top of the egg.
Place the dish or mug in the microwave and cook egg for 35 to 40 seconds. (You'll want all the liquid to cook off.)
As the egg cooks, spread the mayonnaise and Dijon mustard on the toasted muffin. When the egg is done, remove it from the dish, and place on one half of the muffin. At this point, you can add additional toppings, like spinach, sliced tomato, or sliced deli ham, if you like. Top with the second half of the muffin.
Oatmeal with Yogurt and Marmalade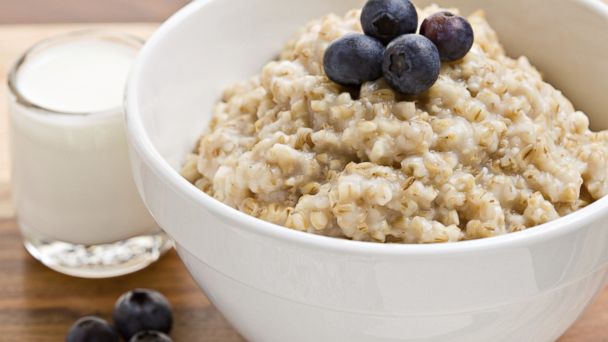 You can jazz up quick-cooking oatmeal with whatever you have on hand in the fridge or the pantry, but if you're in a rush, you don't want to waste time washing and chopping fruit or other ingredients. This recipe from Real Simple calls for yogurt and marmalade, add-ins that don't require any extra prep work.
Ingredients:
1 serving of 1-minute oats
2 tablespoons plain low-fat Greek yogurt
2 tablespoons orange marmalade
Directions: Cook oats in microwave according to package directions. When done cooking, remove from microwave and spoon the yogurt and orange marmalade on top of the oatmeal.
Deep Purple Smoothie
Smoothies are the perfect breakfast treat for rushed mornings: Just combine all the ingredients in a blender, pour, and then go. This nutritious, berry-rich smoothie will give you the energy you need to wake up and get going. Recipe from Prevention.

Ingredients:

¾ cup blueberries ¾ cup blackberries ½ medium banana 3 tablespoons unsweetened almond milk
2 tablespoons chopped pistachios
1 teaspoon hemp seeds
1 teaspoon sesame seeds
Directions: In a blender or food processor, combine the blueberries, blackberries, and banana. Blend until smooth, adding almond milk as you do until the smoothie reaches the desired consistency. (Note: This recipe make a thick smoothie; you may need to add more liquid if you prefer a thinner smoothie.)

Pour the smoothie into a bowl or cup. Sprinkle the pistachios, hemp seeds, and sesame seeds on top. Serve.

(Persopo.com's goal is to provide easy online access to public record information in a fast, safe, and affordable manner. Because Persopo is not a Consumer Reporting Agency as defined by the Fair Credit Reporting Act (FCRA), you must not use this site if you are searching for a person because you are considering them for employment, credit or insurance eligibility, tenancy, or any other reason that would require FCRA compliance. Learn more by visiting our Terms of Service and Privacy Policy.)