The agriculture and food production industry employed more than one billion people as of last year, or a third of the global workforce. While the industry is substantial, a relatively small number of companies wield an enormous amount of influence.These corporations are so powerful that their policies can have a major impact on the diets and working conditions of people world-wide, as well as on the environment. These are some of of the companies that control the world's food!
Associated British Foods PLC
Associated British Foods is a U.K. food manufacturer that has built out a global presence largely through acquisitions. Associated British Foods operates sugar factories, sells food ingredients to wholesale and industry customers, and manufactures consumer products such as Mazola corn oil and Twinings tea.
The Coca-Cola Co.
Coca-Cola is among the most valuable brands in the world. In total,Coca-Cola and its bottlers sold 28.2 billion cases worth of drinks, of which 47% were "trademark Coca-Cola." In total, sales for The Coca-Cola Co. were nearly $47 billion in its latest fiscal year. That is insane!
Groupe Danone S.A.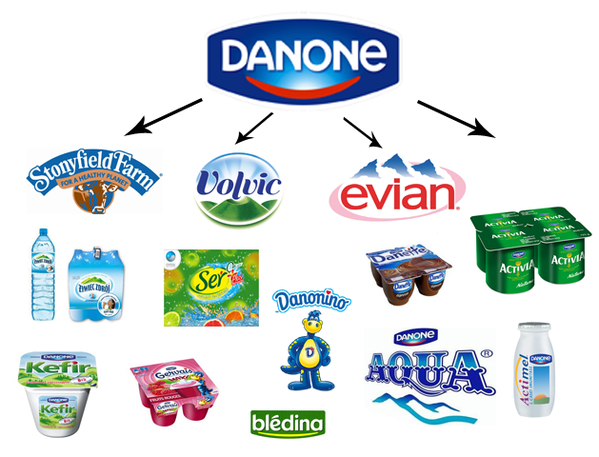 France's Groupe Danone has a truly global presence. Its largest market, by sales, is Russia, followed by France, the U.S., China, and Indonesia. According to the company, Danone DANOY,is the world's largest seller of fresh dairy products, which accounted for 11.8 billion euros in revenue, or over half of the company's total sales in 2013.
General Mills, Inc.
General Mills GIS, owns some of America's best-known brands, including Betty Crocker, Green Giant and Pillsbury. No company received a lower rating from Oxfam for its overall approach to major policy issues. General Mills had the lowest scores in awareness and policies regarding climate change.
Kellogg Co.
Among the top food companies, Kellogg K,is the smallest by revenue. Still, as of 2013, the company had nearly $15 billion in sales, a similar amount in total assets, and more than 30,000 employees. Kellogg also owns a large number of very well-known brands, including Kellogg's cereal, Keebler, and Pringles, which it acquired in 2012 for $2.7 billion.

(Persopo.com's goal is to provide easy online access to public record information in a fast, safe, and affordable manner. Because Persopo is not a Consumer Reporting Agency as defined by the Fair Credit Reporting Act (FCRA), you must not use this site if you are searching for a person because you are considering them for employment, credit or insurance eligibility, tenancy, or any other reason that would require FCRA compliance. Learn more by visiting our Terms of Service and Privacy Policy.)